When it comes to kitchen gadgets, you'll find a lot of ridiculous ones, but then, there are also a number of useful devices that will definitely make your cooking sessions faster, easier and more enjoyable.
Whether or not you are a pro, here are 5 of the newest and coolest kitchen devices that are worth investing in this 2019:
1. Sous Vide Supreme Water Oven
Before telling you about this first ever water oven, let me discuss what sous vide is. Well, sous-vide, a French term for "under vacuum," is a method of cooking that involves placing food inside a pouch or glass jar and cooked in water baths for longer than normal cooking times. Through this method, meat is cooked evenly inside and out while retaining moisture and preserving the nutritional quality of the food.
This water oven is designed to make sous vide cooking easier and more affordable and guarantees perfectly cooked steak, juicy tender meats, vibrant vegetables and more – all at the push of a single button. Just set it, then do your other chores. It's very easy, time-saving and guaranteed to give your food a gourmet taste.
2. SAKI Automatic Pot Mixer Auto-Stirrer
Here's a kitchen gadget made to save you from the constant pot steering, because we all know that we have other things to do besides just standing in front of our kitchen stove, constantly turning the pot and waiting for our meals to get cooked.
This automatic stirrer is custom engineered to deliver maximum stirring power and richly-smooth action to cook your soups, stews and other meals wonderfully without wasting so much time and effort.
3. Boiling Beeper
Another nifty gadget that will save you time standing in front of your stove is this boiler beeper that will notify you when the water starts to boil.  Just place the BoilingBeeper in your pot of water and turn up the heat. Now you can do your other chores and just wait for it to beep.
4. Hamilton Beach Breakfast Sandwich Maker
Mornings are usually hectic for most of us, that's why most of the time, we have no choice but to skip breakfast.  And that's unhealthy because we all know that breakfast is the most important meal of the day.  But if you have 5 minutes to spare to make an easy breakfast meal, this Breakfast Sandwich Maker will give you a a fresh breakfast sandwich you can grab and go.  And by sandwich, I mean complete with the usual fixings: egg, cheese, precooked meat, or the ingredients of your choice, using just one tool.
5. Instant Pot DUO Plus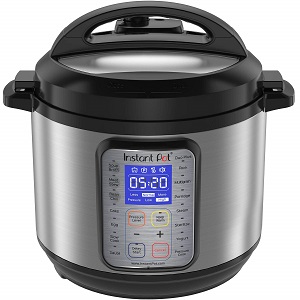 Last on my list an all-in-one cooking pot for all your cooking needs. The latest Instant Pot DUO Plus can work as a pressure cooker, slow cooker, rice cooker, yogurt maker, steamer, sterilizer, and so much more. It's also Alexa-enabled so you can adjust your settings and monitor your food remotely. It's definitely a kitchen must-have that will save you time, effort and kitchen counter space.
(Editor's note: We like this one so much we are planning to get a 2nd unit. However, if you want to run two Instant Pots at the same time, be sure that they are on separate electrical breakers, because these cookers are about 1500 watts each.)
These are my top 5 recommendations to help you become more efficient in the kitchen.  What's your favorite?