The Coronavirus outbreak has made celebrating occasions and milestones really challenging for the past few months – from birthdays to Easter Sunday and in a few days, Mother's Day.
Unlike before, this year's list of ways to honor the mothers in our lives is quite limited. However, that should not stop you from commemorating this special occasion.
Fortunately, we're living in a modern world and there are still numerous ways to make your mother, grandmother, wife, aunt, sister, friend, and other moms in your life, yourself included (if you are one) feel special this 10th of May.
Mother's Day 2020 may have taken a different turn, but now is the perfect time to make new traditions. Moms deserve to be showered with some extra love on Mother's Day and no virus can ever stop us from that.
That being said, here are 5 ways to celebrate this special occasion in the midst of a pandemic:
1. Have a bouquet of flowers delivered to her.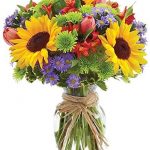 Nothing beats a fresh bouquet of colorful blooms to honor her on Mother's Day. Thankfully, there are still a lot of flower shops that accept orders for home deliveries. Check out your local floral shops and place an order now before they run out of slots, or just order online.  Amazon has an amazing selection of flowers such as this beautifully decorated glass vase filled with sunflowers, tulips and asters.
2. S
chedule an online Mother's Day call with the whole family.
Of course, no Mother's Days is complete without having the family all together. However, with social-distancing and isolation, a get-together on Mother's Day would be impossible. But that doesn't mean the whole family can't see each other. Thanks to the internet, everyone can now celebrate any occasion virtually. Set up an online video call for your mom, with each member of the family there, and celebrate Mother's Day together. Some platforms that you can use are the following:
Zoom (free version for up to 40 minutes)
Houseparty
3. Plan for a special menu.
There are different ways to celebrate with food this Mother's Day. You can whip up something special or order their favorites. Another fun activity would be a virtual Mother's Day lunch or dinner with the whole family. Each family member can prepare a special dish or everyone can follow the same menu to create in their own home so you can all enjoy the same meal together.
4. Create a special Mother's Day slideshow.
Gather your favorite photos with mom and collect video greetings from each member of the family, and put them together to create a meaningful slideshow to present to her. You don't need to have fancy equipment or computer programs to do this. Below are some of my favorite mobile apps that you can download for free for photo and video editing.
5. Make a family scrapbook.
Now, if you hate being techy, you can go for the good old scrap-booking. Collect old and recent photos, special mementos, handwritten notes from each family member, and handmade artwork from the little ones, to create a special Mother's Day scrapbook that she will treasure forever.
As much as we want to visit our loved ones on this special day, remember that the best gift that we can give them now is to make sure that they are safe and healthy. So just be thoughtful and creative – find ways to make the mothers in your life feel appreciated despite of the physical distance, and have a good Mother's Day regardless.