It's that time of the year again when Oprah Winfrey drops her annual list of favorite things that features a curated list of 107 items from various categories and of different price points.
Oprah Winfrey is not just famous for her highest-rated television program, she's also an American media executive, actress, television producer and philanthropist.
"We've got gifts for you for just everyone on your list. There are even some you may want to choose for yourself!" -Oprah
Upon scrolling through the list, I just can't help but drool over those fancy and luxurious products that are just ridiculously expensive for someone who's not rich like Oprah.  Umm, a $38 hot cocoa? Umm, no. 
But don't worry because today, I'll highlight 8 products from Oprah's list that falls under the "budget-friendly" category.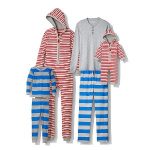 First on the list is a set of matching holiday jammies that your whole family can dress up in come Christmas morning.  It comes in 6 designs and made from organic GOTS certified cotton – great for sensitive skin.
Spread love, strength and positivity with these brass bracelets that spell out meaningful words (BRAVE, STRONG, GRATEFUL, FEARLESS, INSPIRED) intended to inspire, empower and celebrate women.
Forget about toys and gizmos, inspire your kid's creativity with this art projects in a box that contains over 1,250 pieces for endless fun, crafting, imagination and creativity.
This product is not just a wonderful gift idea but is something that you should also buy for yourself.  Letters for a Year of Gratitude includes 52 tear out-and-send letters that will inspire you to send thoughtful, handwritten notes of appreciation and gratitude to all the special people in your life.  Each letter comes with unique prompts that are just so sweet such as "From you, I learned the importance of… What I appreciate about us… It's the little things, like when…" to name a few.
Menus:  A Book for Your Meals and Memories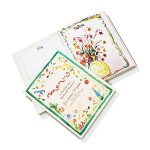 This book is not your ordinary cookbook because the author will be you.  It's an illustrated journal to record celebrations, with paintings by the legendary chef and artist Jacques Pepin.  This book encourages the user to journal about shared meals with friends and families, from the dishes you served, the recipes, the wines that accompanied them, and even the music.  There are no rules.  Be creative and as detailed as possible because this journal will preserve those special memories shared with your special people.
Black + Decker's Helix Hand Mixer is one of Oprah's top home and kitchenware items on her favorites list.  This model is new from Black + Decker, with advanced helix design that improves mixing performance by maximizing beater overlap and mixing ingredients in multiple directions.  All its accessories can be stored conveniently in the smartly designed storage case which uses the mixer itself as the snap-on cover – that'll definitely save up space on your counter or storage.
Rapid X5 USB Charger
Born from necessity, this charger was created for big families or group or friends who are looking for a solution to charge their USB powered devices in the car all at the same time.
The X-5 USB Car Charger supports up to 5 devices at ones and delivers fast charging speeds.  No more fighting for the power cable!
This Vegan leather crossbody bag is a must-have for fashionistas on the go.  Its size is perfect for those days when you just want to grab the essentials and head out the door, without sacrificing style.
It has RFID protected card slots and front flap magnetic closure with tassel, plus a carabiner clip if you want to use it as a belt bag.  Though it looks small, it's big enough to fit cards, money, sunglasses, lipstick, and more.
So this list is just less than 8% of the whole collection. Make sure to visit THIS PAGE to see what Oprah has in store for you this holiday season.