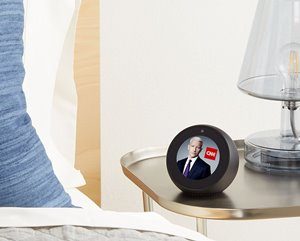 The smart speaker trend that was pioneered by Amazon with the debut of Echo in 2014 is taking the world by storm.  In fact, 42% of smart speaker owners say that these gadgets are essential to their everyday lives.
As the relatively young smart speaker market continues to rise, more and more companies are jumping in to make their own versions of the voice activated smart speakers.
There's an assortment of smart speakers available in the market today, let's take a look at the new ones from Amazon, Google and Apple.
Google Home Mini
Google just unveiled a smart speaker which will be released on October 19th, to compete with the Echo Dot ($49.99).  The Google Home Mini ($49) has the same functionality with the original Google Home but is much smaller and more portable.  It is 4 inches in diameter with a fabric top and comes in Chalk, Charcoal and Coral color options.
If you rely on Google for all your queries and how to's in life, the Google Assistant inside the Home Mini will answer all your questions and give you all info stored in your Google account such as calendar appointments, reminders, etc.  Since it's a speaker, it will obviously play and stream audio, as well as videos and images from Google Photos to any Chromecast-enabled device.
Google Home Max
If there's a mini then there has to be a bigger and bolder supersized version.  If you're all about sound quality, then this $399-smart speaker is a massive speaker with superb audio quality.  So it's basically a stereo speaker that is powered by a Google Assistant.
Apple HomePod
Now if you're a loyal Apple customer, Siri will also have her own smart speaker so she can answer all your questions and help you with everyday tasks like playing your music, controlling your smart home accessories, set timers, etc.  It uses  innovative signal processing that allows Siri to hear your requests from afar, even with the music playing at full blast. At the same time, it is built with multiple layers of security — including anonymous ID and encryption — protect your privacy.  The HomePod will be released this December will cost $349.
Echo Show
The Echo Show is the first Alexa-powered speaker to get a 7" touchscreen that is perfect to make hands-free video calls to friends and family who have an Echo Show or the Alexa App on their smartphones.
"Echo Show brings you everything you love about Alexa, and now she can show you things. Watch video flash briefings and YouTube, see music lyrics, security cameras, photos, weather forecasts, to-do and shopping lists, and more. All hands-free—just ask."
You can get it on the Amazon site for $229.99.
All New Echo
The Echo who started it all is now improved and revamped with 4 new colors  to suit every style and aesthetic.  Now you have more options, if black or white isn't really your style.
The new generation Echo ($99.99) now has a 2.5" downward-firing woofer and 0.6" tweeter powered by Dolby to deliver crisp vocals and dynamic bass throughout the room.
It still supports hands-free calls and messages to other Echo devices and controls compatible smart lights, thermostats, garage doors, sprinklers, and more.
Echo Spot
The Echo Spot (Pre-Order for $129.99) is stylish, compact (1.3″ x 3.3″ x 3.3″, 5.7 oz.) and brings everything you love about Alexa.  It comes with a circular screen so that Alexa can actually "show" you things – whether it's the lyrics of your favorite song, the person at the front door, your baby in the nursery or even for video calls, just like the Echo Show.
"Echo Spot combines the popular small design of Echo Dot, the display of Echo Show, and the features you love about Alexa into an all-new, stylish and compact device," said Tom Taylor, Senior Vice President, Amazon Alexa.
Echo Plus
At first glance, it may look like the original Echo but it's not.  The Echo Plus (Pre-Order for $149.99) comes with all the Alexa capabilities but this one has a built-in hub that easily connects and controls smart devices such as light bulbs, door locks, switches and plugs.  No need for third party apps – just say, "Alexa, discover my devices" and it will automatically search for and set up compatible smart home devices.
With the growing interest of consumers on virtual assistants and smart home devices, I'm pretty sure there will be more smart speakers to expect in the coming months.