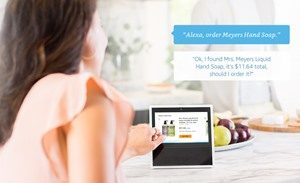 Online shopping has come a long way since the early days but it seems that people keep on exploring beyond the convenience of shopping remotely through smartphones and computer devices.  Hence the birth of Voice-activated shopping that was pioneered by Amazon Alexa.
One of the many skills that Amazon's famous digital assistant Alexa has is that she is able to do the shopping for you. But only from the Amazon site obviously.
But unlike the traditional Amazon shopping experience, you no longer need to pull up the Amazon website from your phone or laptop.  With your Echo or other Alexa-powered device, you can simply ask her about the latest deals, tell her to add stuff to your cart, reorder your favorites and even track your packages – all with just your voice, whenever and wherever you are.
So how does it work?
First, you need to have an Amazon account, a Prime Membership and an Alexa-enabled device such as the Echo, Dot, Show or the upcoming Plus, Spot and All New Echo.
Then have the 1-Click ordering enabled on your account.  Now to avoid unauthorized or accidental purchases, I highly suggest that you set up a confirmation code.
Visit this page to learn how you can manage the 1-Click ordering settings and set up your four-digit code.
To order, simply say "Alexa, order __."
If you haven't bought that item before, Alexa will recommend items from Amazon's Choice, a curated collection of highly-rated and well-priced products with Prime Shipping.
For example, Alexa will respond with something like, "Amazon's Choice for batteries is Amazon Basics Double A batteries, 48 pack.  It's $11.87.  Would you like to buy it?"
If you're okay with that, just say yes, provide your confirmation code and Alexa will add the item to your cart and confirm that the order is on its way.
"Ok, I've added Amazon Basics Double A batteries to your cart. Visit your cart to check out."
To track your package, you can just say, "Alexa, where's my stuff?", and she will provide you with the informaton on when your next package/s will arrive.
Reordering your essentials and favorites is very easy too.  Just tell Alexa what you need and she will find items from your past purchases.
For example, if you want to reorder your pup's favorite dog food, she'll respond by saying, "Based on your order history, I found Taste of the Wild Dog Food, Bison and Venison, 30-pound pack. It's $53.99 including tax. Would you like to buy it?" Just say yes to confirm your order!
If you have an Alexa-enabled device, try voice shopping now and get exclusive deals plus a $10 credit when you order an item from your Amazon Order History.