Gift shopping for dads is quite challenging.  Especially for the man who seems to have everything.
According to a new survey from Insider Travel Report, Baby Boomers are set to travel more this year than Millennials and other generation groups.  So whether you dear old dad is already a frequent traveler or just planning for one, get him a Father's Day gift that will make his future travels easier, safer and more enjoyable.
Travel Books
Inspire him to travel the world and help him learn how to travel smarter and cheaper through these travel books:
Journeys of a Lifetime:  500 of the World's Greatest Trips
He'll love this classic and minimal travel bag made with full grain leather to keep his toiletries and other personal belongings.  You can even have this engraved with his initials or name too.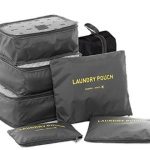 Help him organize all his belongings with this 7-set packing cube made in high quality and waterproof material.
Make sure he never loses his luggage with this #1 Worldwide Luggage Locator that lets the user locate belongings anywhere through a friendly smartphone app.
Portable Charger
Get him his own portable charger to ensure that his devices never run out of batteries.  This outdoor waterproof powerbank has 10000mAh capacity that can charge smartphones and other devices multiple times.
Multipurpose Touch-Up and Travel Iron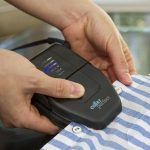 Whether he's traveling for a vacation or a business trip, the Collar Perfect will be the perfect companion for quick ironing solution that works well on collars, cuffs, creases, between buttons and other parts to smooth out wrinkles.
The Huzi Pillow is not just your ordinary travel pillow.  It's so versatile that you can turn it into a neck pillow, lumbar support, desk pillow, eye mas, noise canceling pillow and more.  It's even recommended by Travel+Leisure and Washington Post.  One pillow, infinite possibilities.