Grandparents play a significant role in everyone's lives. You are not who you are today without them.  Father's Day is a great opportunity to show grandpas how much their presence is appreciated and what better way to do that is to surprise them with a special gift that they will treasure forever.
Father's Day is still several weeks away so there's plenty of time to search for a well thought out gift.  Getting him something handmade and personalized would be perfect – sweet and very meaningful.
If you don't have a pair of crafty hands, Amazon Handmade is a great place to discover truly handmade products from thousands of Artisans all over the world.  For inspiration, here are my top picks:
This stenciled pillow is a fun and quirky addition to a new grandad's living room.  Whether it's for Father's Day, Christmas or no occasion at all, it's a wonderful gift to remind him how great he is!
Personalized Pub Glass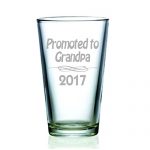 Here's another decorative piece that will definitely make grandpa smile – a customizable 14 oz. pub glass that says "Promoted to Grandpa" and the date when he first became one.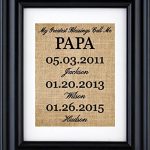 Grandchildren are a Grandpa's blessings and vice versa.  This wall art made in authentic burlap will remind him of his greatest blessings – names of his grandchildren and the year they were born.
Rustic Wooden Sign 
To the man who everybody in the family looks up to, here's a gift that will guarantee a smile from grandpa and everyone who sees it  – a rustic wooden sign that says "PAPA- The man, The myth, The LEGEND."
Engraved Hammer 
Another quirky gift for grandpa is this customized hammer that says "If papa can't fix it… nobody can."
Printed Papa Apron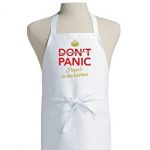 We all love Grandpa's home cooked meals and barbecue so give him this fun apron that says "Don't Panic… Papa's in the Kitchen."
Papa Coffee Mug 
Make him smile every morning by giving him this sweet reminder on a coffee mug – "Officially the World's Coolest Papa."  Of course, he is!
Last but definitely the least; let him know how grateful you are for having him in your life.  He is definitely your hero.  After all, there wouldn't be YOU if not for him.