With spring in full force and summer coming next, I'm sure you have a lot of road trip adventures planned.
Whether you're visiting family, attending a wedding or going on a weekend getaway, here are the 10 items you need to pack for an entertaining, safe and comfortable long ride.
1. Smartphone Mount
I'm sure most of you rely on your smartphones to navigate from point A to B so it's a must to have a mount to keep your phone in place.  With your smartphone mounted, you don't have to worry about taking your eyes off the road to glance to down and look at the map.
2. Audio Books, Podcast and Music
Speaking of smartphones, load up your phone with your favorite music, audiobooks and podcasts to keep you entertained during the trip even when you're the one driving.  Your Amazon Prime Subscription will come handy during your long trips since you already have unlimited and free access to Prime Music, Audible and more entertainment.
3. Snacks
Of course you need to pack snacks or else you'll go HANGRY and no one likes that, especially when you're in the middle of nowhere.  When it comes to picking which snacks to bring, choose food items that are non-greasy, crumb-free and of course, healthy.  A few examples would be fruits, nuts and protein bars
4. Travel Mug
You need a travel mug to keep your freshly brewed coffee hot or your beverage cold even after a number of hours later.  Choose a mug with auto seal lid to prevent leaks and spills in between sips, even when you're on a bumpy road.
5. Motion Sickness Remedies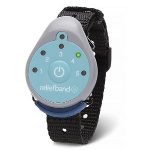 If you're prone to motion sickness when traveling, make sure to bring meds for the road just in case.  You can also go for natural cures like ginger candy/gum that's said to really work.  If you want to go techie, there's a Reliefband that you can buy which uses "neuromodulation" to stimulate the nervous system and stop nausea & vomiting.
6. First Aid Kit
Aside from motion sickness, you also need to prepare for other medical mishaps.  Pack a First Aid Kit and medicines for common traveling ailments like stomach upset, headache and allergies.  Also, if you have to take your maintenance medications, make sure you bring extra in case you drop a pill during a car ride.
7. Roadside Assistance Kit
You'll never know what might happen on the road which makes a roadside emergency kit a staple and a steady item inside your vehicle, even when you're not planning to go on a long car ride.
8. Multi-Port Car Charger
To ensure that your devices won't run out of batteries, I recommend that you buy a car charger.  Pick a car charger with multiple outlets so that you can charge multiple devices simultaneously.
9. On-the-go Cleaning Products
A box of tissues, wet wipes, hand sanitizer, some garbage bags and probably a Tide to go   will be your best friends in case of car sickness, normal spills and usual cleanup.   Keep them in a seat organizer so that it will be easy for you to get them when you need them.
10. Spare Keys
Last but definitely not the least, always bring a duplicate set of keys in a separate bag or inside your pocket just in case you lock your keys inside the car or lose them.