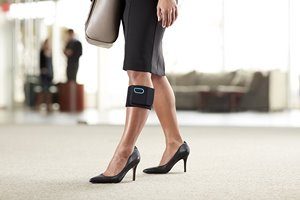 Millions of people suffer from acute or chronic pain. This has been a significant health problem in the society.  It's not just all about the pain but the emotional and financial burden it places on patients and their families.
Due to the increase in the number of pain sufferers, more and more gadgets that are easy to use at home are now available in the market.  Let's take a look at these pain management devices that might be the answer to your pain woes and hopefully improve the quality of your life.
This wearable device is designed to be worn on the calf, regardless of where the pain is felt.  It uses intensive nerve stimulation to trigger the release of your body's natural pain blockers.  This is perfect for people who suffer from back pain, arthritis, nerve pain and more.
Quell has a Bluetooth connection to sync with IOS and Android smartphones.  This allows you to monitor your pain therapy, sleep trends, body movement and position during the night, which can help a lot in your chronic pain management.
Most of us suffer from eye strain and severe headache after long hours in front of the computer at work or after binge-watching your favorite shows on TV.  Combined with heat and intelligent vibration and point massage, this FDA cleared Visoncare Eye Massager, can soothe away the stress and strain, leaving your eyes more relaxed, rejuvenated and pain-free.
There's a wide variety of electrostimulators available in the market today but this new one from a French Startup is the first that connects to your smartphone.  With the Bluetens app, you can easily select the part of your body that needs relief.  The device has 12 electrodes that you need to affix to the area where you are feeling the pain.  Once the electrodes are affixed and the device turned on and set, a low-voltage dose of electricity is then delivered to relieve the pain instantly.
When dealing with Chronic pain, experts recommend a multidisciplinary approach and finding what works best for you – medications, rehabilitation, therapies, using technologies or a combination of these treatments.