For all you grandparents out there, I know how most of you put so much effort into choosing the perfect gifts for your adorable grand kids each year.  I also understand how holiday gift shopping can easily make you feel overwhelmed due to a number of factors – generation gap between you and them, gazillions of toys you see online and in-stores, and let's admit it, the pressure of making sure you get them something they will surely love.
It's important to pick out gifts based on the child's interests, abilities, play patterns and of course, age.  If you're uncertain, talk with your own children and get a few ideas on what types of gifts to get your grandchildren.
Now here are a few gift ideas that will surely put a smile on your grandsons and granddaughters' faces:
Dress Up Costumes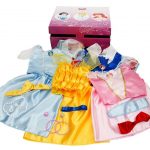 Halloween or not, kids love to play dress up.  These two sets already include 4-5 pieces of costumes for them to choose from and enjoy endless hours of pretend play.
Your very own princesses will love this storage trunk filled with Snow White, Aurora, Cinderella and Belle dresses.  And your little superheroes will surely have fun dressing up like Batman, Superman, Spiderman, Captain America and Flash.
Fur Real Friends
Fur Real Friends is brand to look at when you're shopping for your animal-lover little ones.  From an Interactive puppy that you can feed, take for walks and clean-up after (yes, it poops like a real dog!) to a customizable Robo-pup named Proto Max that allows kids to customize the dog's reactions, responses and code its interactive routines through a downloadable app.  Aside from dogs, there are various other toy animals too – cats, pandas, tigers, monkeys, ponies, etc.
Play-Doh Touch Shape to Life Studio
Kids will never have too many Play-Doh's.  But did you know that these molding clays are now going digital?  Bring your grandchild's Play-Doh creations to life with this Shape to Life Studio game where they can shape their Play-Doh creations and scan them to create characters in a virtual world.
SelfieMic
Little Divas will go gaga over this microphone that's attached to a selfie stick a.k.a the SelfieMic, where they can place their smartphones in and sing along their favorite songs while recording themselves.  It's a great way to encourage your grandchildren to pursue their passion for singing or just have fun with music.
MasterChef Junior
MasterChef Junior also has a variety of cooking sets to encourage your grandchildren to learn different culinary skills and be passionate about cooking – from the Basic Essentials to Cooking Sets for Baking, Making Breakfasts, Pizza and Burgers.  Each set includes real kid-safe cookware tools and recipes to empower children of all cooking levels to improve their cooking skills and have fun in the kitchen.
Subscription Boxes
Subscription Boxes are perfect gift ideas if you want a gift that keeps on giving.  These boxes are filled with an assortment of themed items that will be sent to your grandchildren once a month for three, six or 12 months, or how long you would commit to.
Check out this blog post to see a list of  different Fun & Educational Subscription Boxes tailored for kids.
Gifts of Experience
Lastly, instead of toys or gadgets, giving your grandchildren a gift of experience is such a wonderful and meaningful idea.  Get them tickets to a sporting event, a membership at the zoo or museum, lessons to learn or hone a new skill, tickets to a concert or play, and so much more.  This type of gift is something they will surely treasure and remember forever.
I hope that these gift ideas will inspire and help you decide on what to get your beloved children.  But keep in mind that quality time and a good loving relationship with your grandkids are still better than any tangible gift in the world.