Traveling is fun and exciting but can also be tiring and challenging at the same time.  Delayed flights, long waiting hours, lost luggage, changing weather, public transportation issues –these travel mishaps are common and inevitable.
But thanks to modern technology, traveling can become easy when you have the right accessories.  That's why I came up with a list of innovative gadgets, gear and accessories for all your travel woes.
1. OAXIS AirScale Digital Luggage Scale with Power Bank
This little guy combines the functionality of a 650mAh Portable External Battery and a 40kg/80lbs baggage scale into a compact device.  The power bank doubles as a handle for your luggage scale, while the scale also serves a digital display for your battery's percentage meter.  With this device, there's no need to worry about oversized luggage and not being able to recharge your smartphone and other electronic devices.
2. Reliefband for Motion Sickness
Motion sickness is evil.  It ruins the excitement of traveling and worse, the reason why you want to skip on traveling completely.  But here comes a new gadget that can control your nausea anywhere, perfect for plane and boat rides or any commute.  Reliefband uses "neuromodulation" to stimulate the nervous system with electrical impulses and stop nausea and vomiting from motion & morning sickness.
3. Asobu Water Bottle with Built-in Daily Pill Box Organizer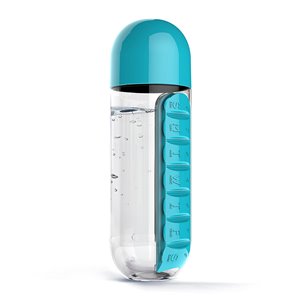 Okay, so you packed your medications but sometimes it's difficult to take pills without water.  If you're in the middle of a long commute or in a location where there's no restaurant or convenience store, that becomes a problem.  That's why this pill box/water bottle is a travel must-have to ensure that you stay hydrated and be able to take your meds on time and whenever you need to.
This ultralight bag promises a machine quality wash in 3 minutes, allowing you to wash your dirty clothes wherever and whenever you want for free.  It folds down to a pocket size so it's very portable and easy to pack inside your bag.  Perfect for your backpacking adventures.
5. Trakdot Luggage Tracker
Keep your luggage safe and monitored with this real time luggage locator.  Receive a notification when your luggage has arrived safely with you and easily locate your bags at the baggage claim via Bluetooth.