Toys are supposed to be fun and educational.  However, they can also provide risks and danger to a child's welfare especially when left unsupervised.  Year after year, toy-related injuries and fatalities continue to increase due to choking, suffocation, punctures, strangulation and ingestion to name a few.  Whether you've already started your toy shopping or just starting with your list, make sure to check out Toysafety.org's "10 Worst Toys for 2016" list to ensure that you won't be giving your grand kids hazardous toys for Christmas.
In today's article, I'll highlight the most dangerous toys on the list and suggest a few alternatives.
Slimeball Slinger (ages 6+)
Hazard:  Potential for eye injuries!
The point of the toy is to shoot slimeballs up to 30 feet with the Slimeball Slinger.  Even though it comes with warnings and cautions to not shoot at any person or animal, we all know how kids can get rebellious and choose to not follow instructions.  At the same time, accidents are inevitable, whether they are supervised or not.
Instead of encouraging kids to shoot slime balls, make them experiment with slimes and learn science-principles instead.  Get these slime kits from National Geographic and SmartLab (suitable for ages 8 and up).
Nerf Rival Apllo XV-700 Blaster (14+)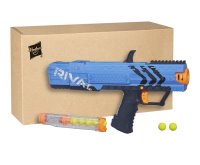 Hazard:  Potential for eye injuries!
This motorized blaster toy that fires at a velocity of up to 100 fps promotes intense head-to-head competition.  According to the report, the packaging doesn't have any warning written on it and doesn't include protection gear.  Without anything covering the face and eyes, this toy can cause eye injuries.
A safer toy-gun or Nerf toy alternative is the Nerf Lazer Tag Phoneix LTX Tagger.  It doesn't involve any dart or balls to shoot so there's no potential hazard for eye injuries.  You only fire shots with lights, sounds and vibrations.
Warcraft Doorhammer Toy (6+)
Hazard:  Potential for Blunt Impact Injuries!
The manufacturer only provided a choking hazard on the packaging but none for potential impact injuries associated with the foreseeable use of this heavy, rigid plastic hammer toy.
If the receiver loves Warcraft, why not give a World of Warcraft Collector's Edition Monopoly set or Card Collection.
Kids Time Baby Children's Elephant Pillow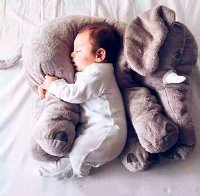 Hazard:  Potential for suffocation!
Sure, this elephant pillow looks cute but as you can see on the photo, it's marketed with an image of an infant asleep and snuggling alone with it.  According to The Consumer Product Safety Commission (CPSC), pillows, plush toys or blankets can block a baby's mouth and cause suffocation.  Amazon wrote "Age Range:  > 3 years old, Grownups" on the Product Description at the bottom of the page but featured a photo of an infant.  According to the Federal Hazardous Act (16 CFR 1500.18), infant pillows or any other similar articles that are intended or PROMOTED for use by children under one year of age are banned.
If you want to give a baby something to keep him/her warm and cozy, the HALO SleepSack is the perfect choice. It fits comfortably over the baby's sleepwear without the risk of covering the face and interfere with breathing.
When buying gifts, don't just go for what looks fun and trendy.  Always look for hazards and just skip on toys that can cause potential harm.