As technology continues to develop, it gets harder to keep up with what's on trend in the digital world, especially for non-millennials.  Smartphones have definitely earned a spot in every person's life because it makes everyday living much easier, and that includes baby boomers.  With the help of smartphone apps, it's now very easy and more convenient to stay connected with family members, do online banking, access emails, shop online, travel, find entertainment and even manage your health.
But with millions of smartphone apps available for download, which ones are the best?  Here's a list of my recommended phone apps that every baby boomer needs.
Car/Item Finder Apps
We've all had those moments when we lose track of where we parked our vehicles.  Thanks to technology, we can now easily locate our cars through an app.
Find Your Car with AR (iOS)
The app uses an Augmented Reality feature to help trace your steps back to where you parked or anything you want to get back to.
Using GPS, you can use the app to remember the position of your car, hotel or any other location.  For offline navigation, you can use the digital compass feature.  The app also allows you to share your stored or current position with your other people – very handy for meet-ups.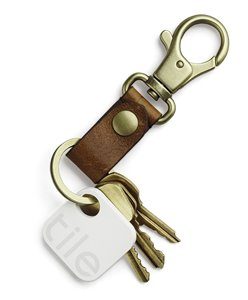 You know how frustrating it is when you lose your car keys, wallet, remote or even your purse.  Worry no more because the Tile app syncs with a tiny Bluetooth tracker called "Tile" that you can stick to basically anything.  http://amzn.to/2bPDmpp
Health Apps
Medisafe Meds & Pill Reminder (iOS, Android)
This app is ranked #1 by Pharmacists out of 461 apps that they have tested out.  It doesn't just reminds you to take your meds on time but also reminds you when it's time to restock your prescriptions.  It also has a Report Sharing feature that lets medical practitioners see your progress report via a visual informative PDF.
If you need to track your calories or log your food intake for weight loss or medical purposes, this app is the fastest and easiest to use.  With over 5 million foods, you have an access to the world's largest nutrition and calorie database through your smartphone.
Entertainment
As you age, it is a must to make an effort to maintain Cognitive Health.  Brain Training Games aren't just for pure entertainment but is also a way to sharpen the mind and prevent cognitive diseases such as Alzheimer's and Dementia.  With the help of the Luminosity app, you'll be able to stimulate your brain in a daily basis with a wide-variety of cognitive and scientific games to choose from.
Nothing beats the good old Scrabble.  Need I say more?
Productivity Apps
For all your notes, to-do lists and bookmarks, Evernote gives you the tools you need to keep everything organized.  It's perfect for both business and personal use and allows you to sync your content across devices.
Magnifying Glass with Light (iOS, Android)
In case you forget your reading glasses, this will come handy.  Thanks to this app, no need to worry about reading menu in a dimly lit restaurant or having a hard time looking for something under your car seat.