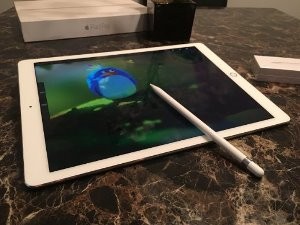 On November 11, 2015, Apple released their own version of a digital stylus pen, the Apple Pencil and their new iPad Pro tablet computer.
If you are like me, you probably never get the "hang" of drawing using a mouse. I've seen several stylus devices, but they all have drawbacks — usually the high price (e.g. the Wacom Clintiq, at $1800).

I still prefer handwriting over typing for some things (like taking notes in a meeting or a class). I guess I'm old-school, but even though I type fairly well, I find using the on-screen keyboard of a tablet to be distracting and slow.
The Apple Pencil (gotta wonder why they didn't call it the iPencil) at $145, is about the same as a top-of-the-line fountain pen. It's the first stylus device that is really usable for both handwriting and drawing.
The Apple Pencil only works with the iPad Pro though (the biggest tablet that Apple has made so far). It works through a Bluetooth connection, so I'll bet there will be an Android app for it before long, or maybe even one for the MS Surface (MS already has an iOS version of  Office that supports the Apple Pencil on the iPad Pro).  There are built-in apps and updated ones from the Apple App store that support the stylus.  You will enjoy doodling and sketching on the overhauled Notes app that includes drawing and writing tools such as pen and highlighter in 24 color options.
Just recently, Microsoft has announced their support for the Apple Pencil in its iOS version of Office that you can download from the App store.
"As part of our effort to make Office even more intuitive and easier to use, we want to make pen and ink a primary input across Office apps.­ While digital inking tools have been available in Office on Windows PCs since 2007, today we are releasing new inking tools in Office for iPad and iPad Pro to make it easy to use your finger or Apple Pencil to work on documents, presentations, spreadsheets and notes."
If you work with spreadsheets, documents and presentations on a daily basis, this could work for you.  You can easily add annotations to your projects and share it with whomever you want.
The Apple Pencil and iPad Pro work really well and together,  they give you a true handwriting experience from a digital device. And the combination is great for drawing pictures.
While I'm still a fan of pen & paper, the Apple Pencil is about the closest you can get to that experience. The advantage over pen & paper is that your notes and drawings are easier to store and retrieve. Plus, mistakes are much easier to erase!